Sign up for the 2022 Historical Society Walking Tours!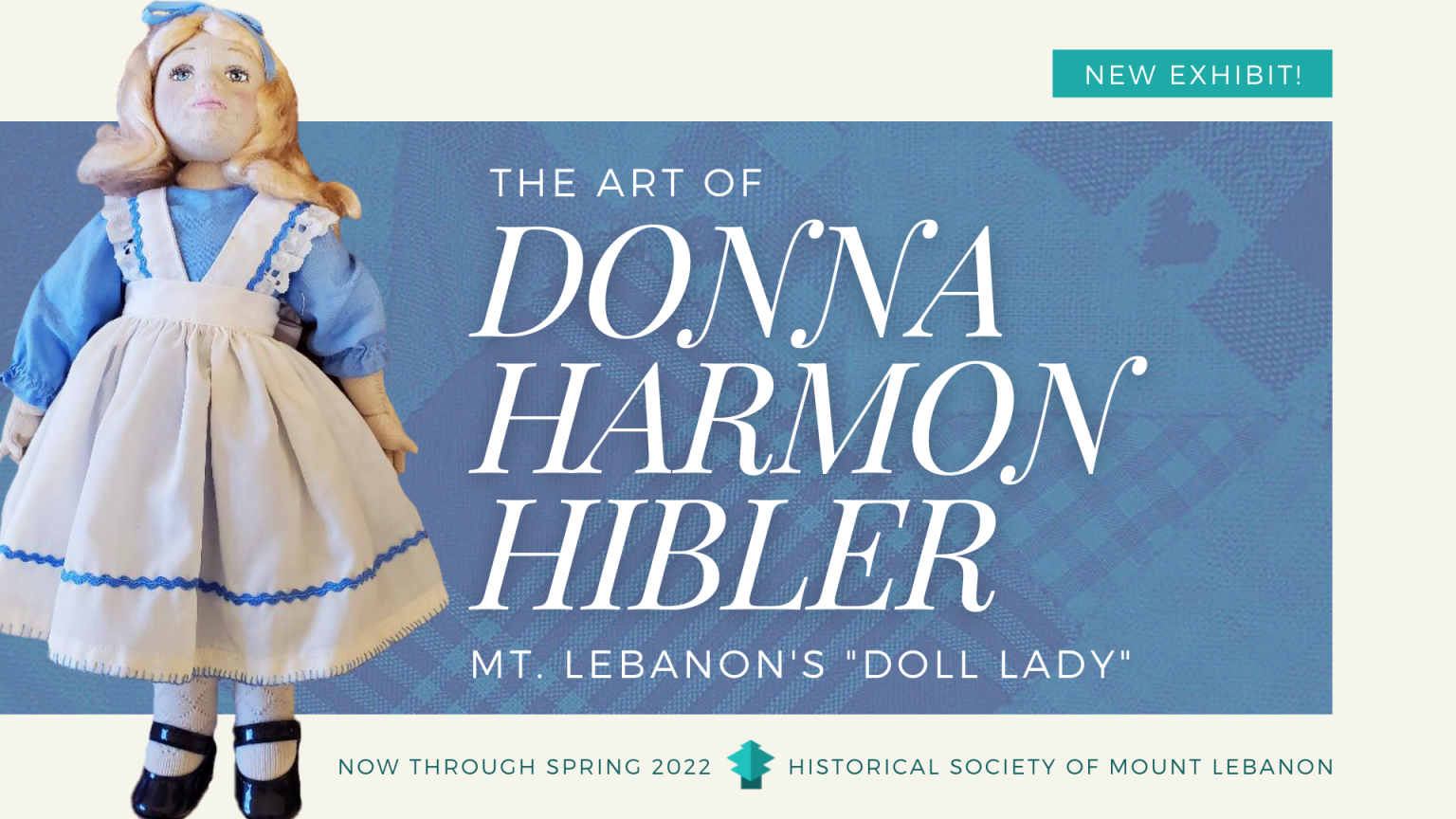 Our next exhibit, The Art of Donna Harmon Hibler, Mt. Lebanon's "Doll Lady," will feature more than fifty dolls, figures, and other examples of her work, drawn from family collections. The exhibit will be on display through the Spring of 2022 – please check back here for details.
Mt. Lebanon native Donna Harmon Hibler (1929-2021) built a national reputation as a miniaturist, dollmaker, and artist. Her career began with constructing incredibly detailed miniature scenes or "tableaux" and exhibiting them at conventions and shows. The quality of her work soon led to commissions from around the country for specific scenes and, increasingly, for the dolls she crafted for them. She made her own head structures from porcelain or modeling clay and built and painted facial features that resembled her children, family members, neighbors, and friends. Mrs. Hibler also made fabric bodies for her dolls and the clothing and accessories that accompanied each. In addition, she was an accomplished quilter, craftswoman, and embroiderer.
The Historical Society of Mount Lebanon serves and promotes the community by collecting, preserving, interpreting, and sharing its history in ways designed to inspire our present and guide our future. 
The History Center is open! The Board of Trustees of the Historical Society of Mount Lebanon has acted to reopen the History Center, 794 Washington Rd. Initially, the Center will be open on Saturdays from 9:00 AM to 3:00 PM. Additional days and hours will be added in the future. We welcome you to visit us. The current exhibit is titled: "Then and Now Along Washington Road: 1964 & 2019" – this displays photos of buildings in the Uptown area taken in 1964 and again, 55 years later, in 2019. And some 2021 updated have been added. For everyone's safety, when visiting masks must be properly worn and social distancing practiced. The number of persons in the Center will be limited to under 20% of capacity. We look forward to seeing you!
Mount Lebanon History
Mount Lebanon is spread across more than six square miles of Western Pennsylvania's hills, but it once was contested land.Surveys were made on May 25, 1770, for James McFarlane's "Black Oak Hill" within what was to become Mount Lebanon and a neighboring tract, probably now in Dormont, occupied by an individual named Price. A Pennsylvania patent for the McFarlane land was not received until November 27, 1788, perhaps because Virginia had included this territory in the western part of its County of Augusta and, later, the County of Youghioghenia.
Become a Member
Our success depends on the support and involvement of people, businesses, and organizations. Each member adds strength to our organization, and together they provide a strong collective force toward accomplishing our purpose. The society is classified as a 501(c)(3) nonprofit, charitable organization.
Membership Benefits
Subscription to The Cedar Tree, published quarterly.
Flyers announcing our bi-monthly programs.
Access to The Historical Society of Mount Lebanon's collections (upon application to the collections committee chairperson).
Savings on tours, publications, and educational programs.
The History Center 794 Washington Road, Pittsburgh, PA 15228
(at the corner of Washington Road across from Southminster Church)
OUR HOURS
9 a.m. to 3 p.m. Saturdays
You can also make an appointment for your organization or high school reunion group.
If you have out-of-town guests and would like to schedule a tour, call 412-329-8595 and leave a message with the date and time you'd like to visit. We will do our best to open for you!