HISTORICAL SOCIETY OF MOUNT LEBANON CAPITAL CAMPAIGN 
PRESERVING OUR HERITAGE. . .
Through a careful and deliberate Board planning process, the Society has identified the following items that are needed:
The total investment required for the facility plan is approximately $1,000,000 for the property acquisition, restoration, improvements and establishment of an endowment for our increased operating costs. These include:
Purchase of the house at 794 Washington Road from the municipality of Mount Lebanon
Renovate and refurbish as a permanent home for the History Center. (The Society currently occupies only the basement of the building.)
Create an endowment to provide funds for on-going operations
THE HISTORY CENTER RENOVATION AND EXPANSION WILL INCLUDE:
Approximately 1,083 square feet of exhibit space for permanent and seasonal exhibits
Exhibit space for traveling exhibits in collaboration with the Senator John Heinz History Center (associated with the Smithsonian Institution)
A multi-purpose room/lecture hall (approximately 1,063 square feet) for educational programming in partnership with the Mount Lebanon School District and various community organizations
Climate-controlled archive space (approximately 665 square feet)
A library of historical materials for research
Office space for volunteers and staff
Work space and research rooms
Restoration of stained glass windows, atrium fountain, stenciling and a mural that were hidden by layers of paint
Handicapped-accessibility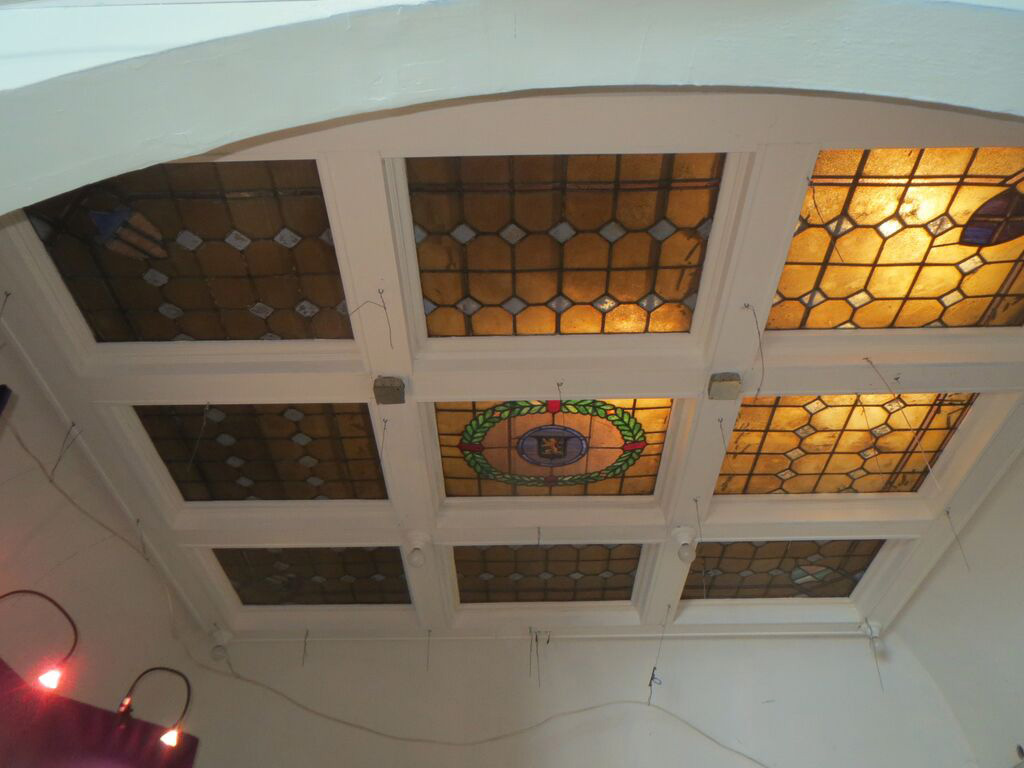 The purchase and restoration of our Center is critical to the future of The Historical Society of Mount Lebanon. The Mount Lebanon Municipality has provided a loan to begin renovations.
We have an opportunity to create a permanent History Center for our community. Please consider joining us in Preserving Our Heritage… Building Our Future by making a contribution today.
"While national and global history is so important to shaping a full world view, we can't overlook the value of the people, places and institutions in our communities and how they have enhanced and impacted our lives."
History
The Historical Society of Mount lebanon started as an idea in 1998 and has evolved into a valuable community resource. What began with occasional lectures, a display case in the Mount Lebanon Library and the storage of an old object or two, now offers rotating exhibits, regular education programs, ongoing research and community-wide events. in 2009, the Society established its first History Center at its present site, the basement of 794 Washington Road. This is the former home of Dr. Donald L. McMillan, a noted Mount Lebanon physician who moved to Mount Lebanon after WWII to practice medicine out of the basement of his residence until he retired in 1988.
Sources of revenue include annual membership dues, an annual fund-raising dinner, donations from community groups and the Mount Lebanon Municipality as well as revenues from tours, sales and royalties.
The Society is managed by a dedicated fourteen member board of directors, and all activities, programs and events are volunteer-driven. The History Center is open Thursdays, Saturdays and first Fridays (June–September).
Programs
Recent Society programs, exhibits and educational highlights include:
Authoring and selling over 550 copies of the book, Images of America: Mt. Lebanon
Creating and displaying eight, free public displays over the last five years including, "Mt. Lebanon: The First 100 Years" which documented our community's history for Mount Lebanon's Centennial Celebration
An annual Speakers Series, featuring five free programs each year – 25 over the last five years – including talks on Mt. Lebanon's development; the life of the area's first doctor, Dr. Cyrus Schreiner; and the glories of Mount Lebanon football under Coach Art Walker, Sr
Multiple walking tours of locations including Mount Lebanon Cemetery, Washington Road, St. Bernard's, Mount Lebanon United Presbyterian, and Southminster Presbyterian churches
Educational programs for high school and middle school students and teachers featuring the exhibit on the impact of WWII in Mount Lebanon
501(c)(3) STATUS
The Historical Society of Mount Lebanon is a 501(c)3 nonprofit organization. Donations are tax deductible to the fullest extent permitted by law. The official registration and financial information of The Historical Society of Mount Lebanon may be obtained from the Pennsylvania Department of State by calling toll-free, within Pennsylvania, 1-800-732-0999. Registration does not imply endorsement.