Mount Lebanon is spread across more than six square miles of Western Pennsylvania's hills, but it once was contested land.



Surveys were made on May 25, 1770, for James McFarlane's "Black Oak Hill" within what was to become Mount Lebanon and a neighboring tract, probably now in Dormont, occupied by an individual named Price. A Pennsylvania patent for the McFarlane land was not received until November 27, 1788, perhaps because Virginia had included this territory in the western part of its County of Augusta and, later, the County of Youghioghenia. From 1774 until 1780, Virginia enforced laws, sold land, and collected any taxes paid in the region.
Area farmers sought to avoid a federal excise tax on whiskey in 1794. As part of the largest civil uprising between the Revolution and the Civil War, a two-day attack destroyed "Bower Hill," the nearby plantation of Inspector of Revenue John Neville, an act that brought an army of 11,000 men to enforce the laws of the new federal government. Threat from Native American attacks remained real until 1794 – 1795.
The state road from Pittsburgh to Washington, PA, was undertaken in 1797 and a stagecoach later plied the route until about 1874. Six-horse teams labored to pull heavy wagons, sometimes up to their knees in mud after wet weather. Drovers moved herds of sheep, cattle, and fattened hogs to market in Pittsburgh, pausing at Thomas Alderson's Five Mile House or at John Conner's inn. Hay, straw, grains, vegetables, fruits, and dairy products brought cash to farmers' pockets.
About 1850, the Rev. Joseph Clokey (pictured to the left) brought back two Cedar of Lebanon trees from the Near East and planted them in front of his home off Bower Hill Road. Mount Lebanon's name was taken from a particular mountain in a region of the Ottoman Empire, known today as the Republic of Lebanon, which is the only place in the world where those trees grow natively, Mount Lebanon. The name has been in official use in this locale since the first post office was established and a postmaster was appointed in 1855.
A narrow gauge railroad, the Pittsburgh Southern, operated across bucolic Mount Lebanon on its way toward Washington, PA, between 1878 and 1883, reaching Temperanceville (West End) from Banksville over an inside rail on the standard gauge Little Saw Mill Run Railroad. Another slim gauge line, the Pittsburgh & Castle Shannon, served a Methodist camp ground just inside the future Mount Lebanon Township above Arlington Station.
Farming was the principal way of life into the early 1900's, although coal was mined underground from 1883 until 1923. Streetcars to Pittsburgh began to operate on July 1, 1901, and, four and one-half months later, the first real estate subdivision, the Mount Lebanon Plan, was laid out. A second one, the Clearview Plan, followed in February, 1902. By 1905, no less than 11 subdivisions had been approved within the future boundaries of the Township of Mount Lebanon. Transformation from rural countryside to a modern suburban community was underway.
Pictured at left is Jacob Gutbub Sr. on his farm that was located between Beverly and Bower Hill roads. Jacob bought the seven acre farm in 1864.
Although the development of Mount Lebanon never was as strongly influenced by electric railway transportation as Beechview and Dormont were, between 1903 and 1909 heavy interurban cars from Charleroi and other points in the Monongahela Valley via Castle Shannon joined city-type streetcars as they passed through new Mount Lebanon subdivisions.
Originally part of St. Clair, then Upper St. Clair and later Scott Townships, Mount Lebanon was created as a separate township on February 6, 1912, after a January referendum, the third time the issue had gone to the voters. Impetus came largely from the desire to install a sewer system, electrical street lighting and other amenities that would speed development. The new community had 1,705 residents, 75 gas street lights, two schools with approximately 200 students, 6 automobiles, and one fire hydrant. A small electric generating facility, the Summerhill Power Plant, which furnished the first electric power to Beadling and Bridgeville, stood near an impounded water supply known today as Cedar Lake.
As early as July, 1912, the new township commission debated establishing a speed limit on Washington Road and marking dangerous spots on other roads. Development of real estate subdivisions clearly not accessible on foot from streetcar lines was underway by 1917. Organized as a "township of the first class," Mount Lebanon appointed the first township manager in the Commonwealth of Pennsylvania in 1928.
The Liberty Tunnels were opened to vehicular traffic in May, 1924, and a Mount Lebanon automobile dealer's car led the opening day cavalcade through the structure. The Liberty Bridge was completed four years later. Traffic and growth accelerated rapidly. By 1934, Mount Lebanon residents owned 3,966 automobiles and lived in 3,460 dwelling places, figures which suggest that a number of families owned more than one vehicle, even in the depths of the Great Depression.
Public transportation and highway improvements remained important to suburban expansion in Mount Lebanon. Five different bus companies once served Mount Lebanon: Oriole, Pittsburgh Motor Coach, Brentwood, Biggi, and Greyhound. "New" Banksville Road, the West End Bypass, the Fort Pitt Tunnels, and the light rail transit or "T" system were among twentieth-century developments that expedited travel between suburb and city.
The largely intact ambiance of its neighborhoods, an outstanding school system, and excellent municipal services have been instrumental in retaining older residents and attracting newcomers.
Mount Lebanon remains a premier example of that phenomenon of modern American life, the "automobile suburb."
(Revised 9-2006)
At right, the first boring for the tunnels in 1920. J. Vincent Gilfillan, part owner of the feed business in the picture, lived on Cedar Boulevard in Mount Lebanon.
The History of Mount Lebanon by the Staff of Mt. Lebanon Magazine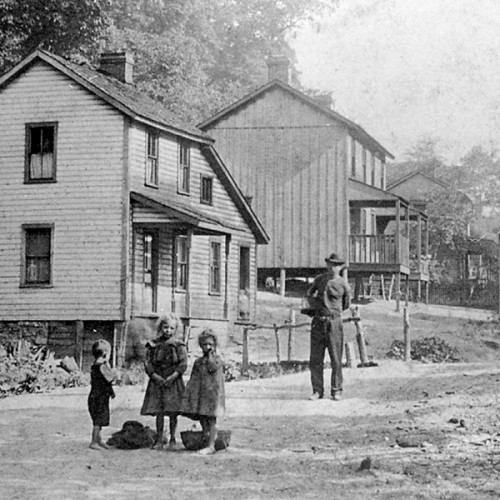 Mount Lebanon was founded in 1912 as one of Pittsburgh's first suburbs, though the first known settlers arrived in the 1700s. A community whose growth has been driven first by trains and trolleys, then by the automobile, Mount Lebanon, with its main streets, diverse architecture, blue-ribbon schools, and proximity to downtown, is now the home of 33,000 people, and parts of it are set to be designated a National Register District. The best overview of Mount Lebanon history was written by the staff of Mt. Lebanon Magazine. It was issued as a book and also appeared in MTL, Mount Lebanon's community magazine. We've included links here:
Fascinating Facts About Mount Lebanon
Whiskey flowed from two local distilleries in the 19th century. The Jackson distillery drew its water from a rock spring near modern Cedar Lake, the other was in the valley where Cedar Boulevard now runs.
By 1876, ten homes, a church, a school, a general store with a post office, and two cemeteries marked the nucleus of a nascent village near the Washington Road intersections of Bower Hill Road, and what later became Scott Road in the Mount Lebanon section of Scott Township.
After World War II, the South Hills Taxi Company briefly operated a radio-dispatched fleet of cream and light blue Packard automobiles.
The site of the Bower Hill Apartments once was occupied by a ski slope with a rope tow and a golf driving range.
Mount Lebanon residents used to feel explosions from coal mining, 40 to 50 feet below the surface. "Haulways" and galleries of mines underlie portions of the municipality including parts of Beverly Heights, Mission Hills, and Sunset Hills.
The modern "T" follows the line of the old Pittsburgh Southern steam railroad from just past Alfred Street to beyond Castle Shannon, a route also used by 1903-1909 electric interurban cars and a 1909-1953 shuttle to Castle Shannon called "the dinkey."
Mount Lebanon's name was carried across the nation on January 20, 1953, when precisely drilled, white-uniformed Mount Lebanon Senior High School Band members marched down Pennsylvania Avenue in President Dwight D. Eisenhower's first inaugural parade. Everyone at home watched on television.
How Mount Lebanon Got Its Name
"Mount Lebanon Gets a Name" by Wallace F. Workmaster
A major mountain range in a region of the once-mighty Ottoman Empire between the Mediterranean Sea and the Bekaa Valley, on the slopes of which Cedar of Lebanon trees grow natively, provided the inspiration for the name of Mount Lebanon, Pennsylvania.
Today, Mount Lebanon is one of the four geographic regions in the Republic of Lebanon and it is a major governmental administrative region.
The cedar forests of Lebanon are considered to be the oldest documented forests in history since they are mentioned in Sumerian cuneform writings and the names of Lebanon and its mountain range were used by King Nebuchednezzar of Babylonia.
In the ancient world, products from the Cedars of Lebanon often were used for special purposes. Kings, emperors, priests, and shipbuilders coveted them as valuable commodities and their export to Egypt by the Phoenicians was described early in the Third Millennium, BC. Their oil was used to anoint, their pitch was a remedy for toothaches, their sawdust was used in mummification or to keep snakes away, and their wood was fashioned into furniture, chests, ceremonial barges, palaces, temples, and sarcophagi.*
Cedar of Lebanon trees also are mentioned frequently in the Bible and at least part of the Temple of Solomon was built from their wood. Babylonians, Assyrians, Greeks, Persians, Macedonians, and Romans in turn avidly sought wood from trees that symbolized beauty, strength, endurance, and pride.
About 1850, the Rev. Joseph Clokey, the fourth minister of the Associate Reformed Congregation of Saw Mill Run (in 1858, St. Clair United Presbyterian Church and, in 1919, the Mount Lebanon United Presbyterian Church) made a trip to the Near East. He returned with two small Cedar of Lebanon trees which he planted in the front yard of his home off Bower Hill Road.**
Most of the residents of the surrounding area attended Mr. Clokey's church and he must have informed his congregation of the Biblical associations of Cedars of Lebanon as well as their place of origin. The relatively prominent hill, once mistakenly thought to be the highest in Allegheny County, upon which Mr. Clokey's church, nearby residence, and his two Cedar of Lebanon trees stood undoubtedly contributed to the choice of the name for the first post office in the area.
The name for the new post office and, ultimately, for the surrounding geographic area was not derived from Mr. Clokey's two Cedar of Lebanon trees, but rather from the mountainous area where Cedars of Lebanon originally grew natively.***
The first official use in this area of the name "Mount Lebanon" discovered to date appears to have occurred when Joseph T. McKnight was appointed as the first local postmaster by President Franklin Pierce on May 25, 1855.
Located for many years in a general store at the intersection of Washington and Bower Hill Roads, the Mount Lebanon Post Office was closed in November, 1901, when Rural Free Delivery service was extended to the area, but streetcar service to and from Pittsburgh had been initiated on July 1 of that year and the transition of Mount Lebanon from rural countryside into a suburban community had begun. The first subdivision, the "Mt. Lebanon Plan," was approved in November, 1901, only four months after the first streetcar arrived.
Another Mount Lebanon Post Office was opened in 1907 at Lusden B. Finley's drug store in a building that still stands next to the former Denis Theater on Washington Road. By then, the name "Mount Lebanon" commonly was used to identify a considerable part of the eastern portion or Second District of Scott Township, which had been formed from part of Upper St. Clair Township in 1861.
A controversy arose in 1909 when people who lived or owned businesses along the axis of the old Pittsburgh & Washington Road (now West Liberty Avenue) north of McFarland Road wanted to use the name for a new borough they planned to incorporate.
Residents south of McFarland Road took the matter to court where it was found that neither of the two post offices which had used the name "Mount Lebanon" were within the boundaries of the proposed borough. As a result, founders of the new borough were prohibited from using the name and a new one, Dormont, was devised for the intended borough.
When residents and business people in most of the eastern or Second District of Scott Township formed their own local government in 1912, it was designated the "Township of Mount Lebanon." In Pennsylvania's governmental parlance of the time, it was classified as "a township of the first class."
Until about 1975, it was preferred practice to use the name in its full form whenever space or time permitted, although it did appear in its contracted form with the abbreviation "Mt." instead of "Mount" in newspapers and other places. An early example of the shortened form, "Mt.," appears in an 1878 timetable of the long-vanished Pittsburgh Southern Railroad.
The full form may be seen over the front door to the original section of the high school built in 1930, while it appears in its shortened form on the tower of the Municipal Building completed in the same year. Students in the local school system were taught that the full form always should be used in formal writing or even on college application forms.
Spurred by various print media and the modern penchant for forms with inadequate short spaces, the local government officially adopted the abbreviation "Mt." in approximately 1975, although "Mount" continues to be found commonly on maps or in other places. The Historical Society of Mount Lebanon chose to adopt the unabbreviated form of the word when it was established in 1998 to reflect the original official name of the community.
The word "Lebo" is a still more recent term that reportedly first was used by a sports writer in a local newspaper to save further space in his articles.
The term "Municipality of Mt. Lebanon" arose as a result of legislation by the Commonwealth of Pennsylvania in the 1980's that permitted designation of "home rule" communities.
What's in a name? In this case, it's a tradition running back to the mountain range known as "Mount Lebanon" thousands of miles away from where Mr. Clokey's trees once matured.
* Botanically speaking, there are four true species of cedar trees, including the Cedar of Lebanon (Cedrus libani), all of which originated in the Mediterranean region. The others are the Atlas cedar (Cedrus atlantica), the Deodar cedar (Cedrus deodara), and the Cyprus cedar (Cedrus brevifolia). The cone-shaped Japanese cedar, often seen in modern landscape plantings, is a "false cedar." See Hugh Johnson, The International Book of Trees: A Guide and Tribute to the Trees of Our Forests and Gardens (London: Mitchell Beazley Publishers, Ltd., 1973), pp. 90 – 91.
** The Emperor Hadrian made the first effort to protect Cedars of Lebanon in the Second Century, A.D. Seedlings were imported into France and Great Britain in the 18th Century. Lancelot "Capability" Brown, the eminent landscape gardener, frequently used them in his designs for large country estates. Cedars of Lebanon mature slowly and require 40 years before they produce seeds; therefore, the stands of trees in their original environment became badly depleted by those people seeking religiously related souvenirs, as Mr. Clokey did, and indiscriminate cutting. In 1876, Queen Victoria provided a stone wall to protect the oldest grove and in 1880 the governor of the region issued a decree to prohibit removal of seeds or seedlings there. Cutting of Cedars of Lebanon was continued elsewhere by the Ottoman Turks through World War I, particularly to fuel lime kilns and wood-burning locomotives, but it now is strictly prohibited and the Forest of the Cedars of God is part of a UNESCO World Heritage Site. A friends group has been established to safeguard the remaining Cedars of Lebanon in the Lebanese preserves.
*** Mr. Clokey's two Cedar of Lebanon trees stood until the 1950's or 60's when they were cut down because the local property owner feared limbs would be broken off or the trees would fall. In Lebanon, similar trees are reputed to have lived for up to 3,000 years. Wood from Mr. Clokey's two trees was used to make three gavels, one each for the Mount Lebanon Township Board of Commissioners, the Mount Lebanon United Presbyterian Church, and the Mount Lebanon Women's Club.
Additional Resources
Before We Were
You can also read the no-longer-available book, Before We Were, online here courtesy of Mt. Lebanon, the copyright holder.
Images of America: Mt. Lebanon
You might also be interested in purchasing Images of America: Mt. Lebanon from the Historical Society of Mount Lebanon online.